The annual International Documentary Festival of Ierapetra (IDFI) has put the fourth largest city of the Greek island of Crete on the map of the most renowned festivals dedicated to the documentary genre around the world, thus creating a unique arts experience with images and sounds from all over the world and attracting a large number of domestic and international film industry professionals, academics, cinema aficionados and general audiences..

Being the southernmost town in Europe, since ancient times Ierapetra has always been on the crossroads of diverse cultures and continents and has now become a popular travel, cultural and gastronomic destination. The location itself became the inspiring starting point of this Festival, founded in 2014 by Eleni Vlassi and a visionary team with a warm Greek soul, a profound love for filmmaking and an excellent knowledge of non-fiction audiovisual projects.

The journalist and filmmaker Eleni Vlassi is the Artistic Director of the International Documentary Festival of Ierapetra and the Chairman & Managing Director of the non-profit organization 'Chrysea', aiming at contributing to improving the quality of intellectual and cultural life at local, national and international level.

Since its very first edition, the International Documentary Festival of Ierapetra has been celebrating the art and business of documentary. Based on its creative cultural consciousness and innovative and interactive profile, it presents a wide and diverse selection of competition and non-competition films (showcased in the Panorama section), promotes documentary film as a leading art form, supports the work of young and independent filmmakers, and encourages public dialogue around the topics and ideas explored in films of local and foreign nationalities. It focuses on documentaries that explore the social and cultural aspects and developments in Greece, the Mediterranean, Europe and worldwide with issues open to question or debate, illustrating 'life as it is' nowadays: from the economic austerity, the climate change, racism, political discrimination, immigration, the state of refugees and human rights to topics related to all forms of arts, mythology, biographies and travel experiences.

Apart from the popular Opening & Closing Ceremony and the regular film screenings, the Festival meets the expectations and needs of the industry guests and further engages with its constantly growing audience and passionate moviegoers, by proudly hosting a series of side events, including special tributes, workshops, lectures, seminars, master classes, along with educational and entertainment activities in a festive and easygoing spirit, such as art exhibitions, performances and food, music & dance events, inspired by unique local traditions, like 'mantinades' (Cretan rhyming couplets of fifteen syllables).


COME TO THE SOUTH AND TRAVEL THE WHOLE WORLD
GREETING OF THE ARTISTIC DIRECTOR
My dear friends,

As the Artistic Director and Founder of the "International Documentary Festival of Ierapetra & Awards," the "International Film Festival of Crete & Awards," the "International Music Festival," and the "Gastronomy Festival of Eastern Crete," I warmly welcome you with great joy to the 10th anniversary of our five-star Festivals, from August 5th to August 25th 2023, here in the South, in Ierapetra, the Gateway to the Mediterranean Sea, to embark on this journey once again, exploring the whole world through sounds, images, and emotions.

In August 2014, a grand vision of mine started taking shape. To transform my birthplace, a popular travel and gastronomic destination, into a center and pillar of an internationally acclaimed cultural and festival institution. Today, after ten years of hard work and dedication, our Festivals shine in the international cultural sphere, attracting professionals from the domestic and international artistic scene, cultural ambassadors from all over the world, and most importantly, cinephiles, to the city of Ierapetra. Our Festivals have met the highest standards, being awarded the "EFFE" Quality Label (Europe for Festivals, Festivals for Europe), recognized as five-star "Gold" film institutions by Hollywood's Film Freeway and ranked amongst the top international film festivals of the planet. We have forged cultural ties and established international networks with pioneering countries in the global film industry, including the USA, the UK, Spain, Japan, and China in the spectacular ongoing collaboration "China Dream," under which I serve as the President of the "Silk Road International Film Festival," one of the largest international film festivals.

A tremendous success and testament to the cultural quality of our Festivals, was our participation at this year's Cannes Film Festival, where I inaugurated our exhibition booth at the Palais des Cannes - a rare honor for a Greek film festival. Cannes gave us an excellent opportunity to promote Greek productions and Greek film culture, as well as to showcase and elevate contemporary Ierapetra as a focal point of culture in the Mediterranean and Southern Europe, a city with a rich history, whose geographical location has been a crossroads of different civilizations and a gateway between continents for thousands of years.

This year, we will screen 260 films from 38 countries in our Official Competition Sections, under the critical eyes of our Juries, which include distinguished personalities from the fields of Literature, Arts, and Sciences. Additionally, our program will feature Panorama, Tributes and the "10th Film Academy of Crete", along with the "Educational Program for Young Filmmakers" from the Chania Film Festival, attracting young talents from all over Greece.

In parallel, a series of events will creatively accompany our institutions, with lectures, educational seminars, photography and painting exhibitions, book presentations, poetry and lyric writing competitions, Cretan mantinada competitions, childrens' activities, as well as Τributes, like the one this year to Spanish Cinema. The culmination of our cultural pluralism will be two exceptional one-day Festivals on August 6th at 9:00 PM at the Ierapetra Seaside Square: the "4th International Music Festival," dedicated this year to the unforgettable Greek composer Manos Hatzidakis, where we will enjoy performances by young and established musicians. Simultaneously, the "4th Gastronomy Festival of Eastern Crete," which will take us on a unique gastronomic journey through Cretan flavors, competing for the Awards of the Tasting Committee, composed of distinguished Chefs from all over Greece.

With great joy, I invite you, on Saturday, August 5th, at 9:00 PM, at the Ierapetra Seaside Square, to the Opening Ceremony of the "10th International Documentary Festival of Ierapetra & Awards", dedicated this year to one of the world's most crucial issues - Climate Change, as well as of the "4th International Film Festival of Crete & Awards," this year dedicated to the most universal human contribution - World Volunteerism. Let's celebrate our 10th anniversary with a spectacular music and dance program featuring international acclaimed artists, a unique Tribute to one of Greece's greatest composers we recently lost, Ierapetrian Yiannis Markopoulos, honorary awards for personalities of the arts and society, live presentations by cultural ambassadors from all over the world and representatives of the Greek diaspora and the Honorary Screening of the documentary film "Malanas, the Untold Story of Alexander," which competed for the "Iris" Awards of the Greek Academy of Cinema, taking us to a unique Himalayan community, reminiscent of Ancient Greece.

As always, all films will be available online, 24/7, on our "Digital Square", through our official website www.festivalierapetra.gr. Moreover, all live events will be streamed via live streaming. The Closing and Awards Ceremony will take place on Sunday, August 13th, at 9:00 PM at the Ierapetra Seaside Square, closing this year's celebrations with an impressive artistic program full of surprises, including the Honorary Screening of the award-winning documentaries "The Dam" and "The Gorges."

I eagerly await you with love, here in the South, from August 5th to August 25th, to spread the aroma of our birthday to the whole world, to travel with sounds and images, and to experience unforgettable magical August nights by the Sea of Ierapetra and under the starlit sky of Crete.

A heartfelt thank you for these invaluable 10 years.

Εleni Vlassi
Artistic Director



INTERNATIONAL DOCUMENTARY FESTIVAL OF IERAPETRA
Organizational Committee / Technical Support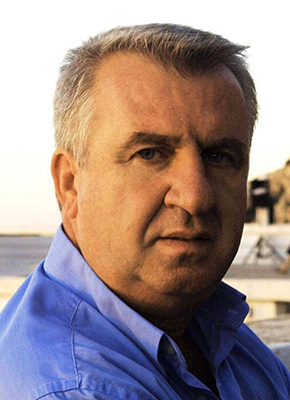 Koudoumogiannakis Leonidas
Pytikakis Mixalis
Eleftheria Vasilaki
Manos Stathakis